Prairie Highlands Lodge - Testimonials
Here's what a few of our customers have had to say about us.
Have a testimonial of your own to share?
Send a Testimonial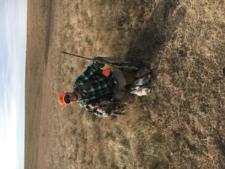 JOSHUA CONLEY
fall 2019 - mission south Dakota
This testimonial is long overdue, simply put I had a fantastic trip with Abel. I was told that we would get into a mess of sharp tails and prairie chickens and he delivered. The accommodations were very nice and enough can not be said about the meals that Abel's wife will provide you, amazing!
Steve McBrayer
Fall 2019 - Rutherfordton, NC
Just finished a 3-day sharptail grouse and prairie chicken hunt with pheasants as bonus birds with Prairie Highlands Lodge. The experience could not have been better. All were wild birds. Abel Harmon, outfitter and guide, with dog, Nemo, made each day exciting, challenging, and successful. We tagged out on the prairie grouse in the AM and then traveled to the pheasant habitat in the PM. Mrs. Harmon is a gourmet cook serving a variety of delicious organic meats, vegetables, and desserts. The lodge is gorgeous and very clean. The vehicles are comfortable and suited to the terrain. I am 74 years old, and this is the best hunt I've had. Outstanding in all respects! Steve McBrayer Rutherfordton, NC
The BCR Crew
Spring 2019 - CONUS
Wow. Just, Wow. 12 good friends and I converged on Prairie Highlands Lodge for 3 days of prairie dog shooting and 4 nights of 5 star accommodations this past week. There was a 100% consensus in our group that this was an absolutely stellar trip....completely over the top. Abel and his family are unbelievable hosts. The main lodge slept 13 of us very comfortably (7 bedrooms, 4 bathrooms). The food was an unbelievable wonderful surprise. Naquel and Cooper made us all look forward to every meal. Beautiful scenery, delicious food, 5-star accomodations, and non-stop shooting action. What more could you want? We are already trying to schedule a return visit. Feel free to ask Abel to give you my personal contact info if you have any questions. Abel, we really can't thank you enough Abel for such a great trip and awesome memories. PS-BRING LOTS OF AMMO
Jerry Riggs
Spring Turkey 2019 - Maryville, Missouri
What a great adventure! Lodge is beautiful. Food is tremendous. Hunt was spectacular. This trip is what memories are made of. Could have tagged out first morning. Abel and girls treat you like family. Need to try this, you won't regret it!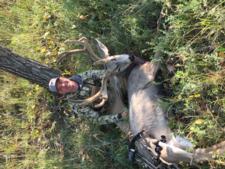 EDOARDO ROVATTI
Fall 2018 - Austin, Texas
I really don't know how to start this testimonial... Late September 2018 Mule deer archery hunt with Abel was nothing short of amazing! The vastness , diversity and beauty of the land is mesmerizing like the abundance of game (quality game). The staying at the lodge is more like a 5 Stars resort with great bedrooms and facilities ,full bar and gourmet kitchen ! Now let's talk about Abel's guides. These guys knows the land like nobody business .They are outstanding in finding game and they mastered the art of spot and stalk. Thanks again to Abel and his Family, the guides and the great people of the Sioux Nation!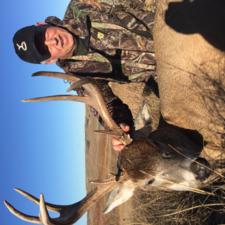 Mark Hennington
Fall 2018 - Hickory, NC
Recently hunted deer in SD with Abel and his family. No doubt this area is a sleeper for deer, as the number of trophy deer (whitetail and mule deer) is astounding. Had an either tag deer license and on day 3 harvested a beautiful SD whitetail. Abel and his family have a top notch operation with a beautiful lodge, 5 star food and the most beautiful deer hunting land. Have hunted game all over the world, Abel and his operation are world class.
Timothy Rushman
spring 2018 - Bellaire Ohio
It was the perfect trip, three days of non stop shooting. Our first time shooting prairie dogs, The lodge was great,lots of room, They take no shortcuts on the food , it was well worth the time and money. The guides were helpful , had just enough ammo, next time bringing more.
John
Spring 2018 - Mission, SD
A clean comfortable full featured lodge with plenty of room for everyone. The breakfast and dinner was way beyond what I was expecting. And more prairie dogs than we could shoot without melting our barrels. By far the best vacation I can remember!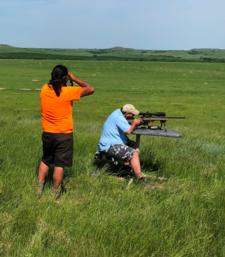 Dave Burgess
May 2018 Prairie Dog - Algonac MI
First dog hunt ever and first time using a guide service. The accommodations were absolutely fantastic and the hunting was phenomenal! Three days of non-stop dogs only ended when I ran out of ammo. Guides were polite, helpful and professional and the lodge staff were awesome. The lodge itself is really something to see and the home cooked meals and well stocked bar were the icing on the cake. Everything was top notch which made for an amazing first time experience. I would recommend Abel and Prairie Highlands to anyone and I can't wait to come back! Thanks for setting up the perfect weather for our hunt as well!
Ed Brodt
Spring 2018 - Kentucky
Just got back from another two day Prairie Dog hunt in South Dakota. This was our second time with Prairie Highlands Outfitters. http://www.prairiehighlandslodge.com Once again it was five star hunting, meals and accommodations. Never ran out of shooting opportunities. Second day we were on the biggest dog town I have ever seen. If you have ever thought about trying this I can highly recommend Abel Harmon and his wife. They will make you feel at home and put you on some of the best prairie dog hunting you can imagine. You know an outfitter is good when people are repeat customers. If you want more details you can email me at edbrodt@att.net
Cindy Carder
Winter/2016 - South Dakota
This hunt was a gift from my husband for my 50th birthday; I asked for an exciting big game hunt with my crossbow and Prairie Higlands did NOT disappoint! We could not get close enough to harvest a bison with the crossbow so we ended up using a rifle. The memories of this hunt are still so vivid and I am so great full for the experience of taking such a big animal with the help from Abel and his family. When we think of our time on this hunt; it leaves a very special memory for the both of us. The lodging was first rate and the food was over the top delicious! Abel and the Prairie Highlands Lodge people will easily fill your expectations of your hunt from the moment you arrive and not let you down.
Leonard Thompson
fall bison/2017 - troutman,nc
To say Abel went above and beyond to make my hunt outstanding, would be an understatement. And with the help of his brother, guide Dominique. I Was able to take a very nice bull with my bow. The accommodations are outstanding, the detail ,layout and the rooms was well thought out. There is no way you will go away hungry, the meals were fantastic. I would highly recommend prairie highland for your next hunt.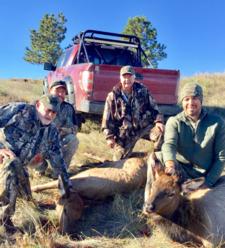 Jim Klein
Fall 2017 - Appleton , WI
Abel and his family are cordial hosts, experienced and knowledgeable guides that endeavor to make your hunt successful and entertaining. The new lodge is very comfortable, meals are extremely well done and Abel's expertise when it comes to guiding is second to none. Thank you for 2 successful cow elk hunts ... well done.
john hendrickson
I've been to a lot of different hunting lodges and areas over the last 40+ years, and let me tell you prairie highlands lodge ranks near the top, not only for the food, hospitality, and lodging. But the hunting land on the reservation is excellent, I harvested a very nice 4x4 mule deer. Thanks to the guides knowledge of the land. Thank you Abel and everyone that helped make it happen. Highly recommended.
John Hendrickson
Clark Ericksen
June 2017 - Glenville, MN
We just completed our 4th Prairie Dog hunting trip at Prairie Highlands. Before we left we booked our 5 Th trip. Thank You Abel for another great experience. The lodge, the food,and hunting experience was awesome. Thank you Abel and your entire staff for making this a great trip.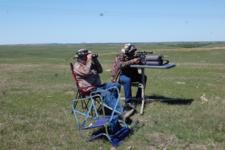 Ed Brodt
Spring 2017 - Louisville, KY
Just finished a two day prairie dog hunt. This is a first class operation from the lodging, food and hunting. We hunted two different locations and never ran out of dogs. It was non stop shooting except for a lunch break and a couple of breaks to rest our eyes. There is no way I can exaggerate this hunt. There were three of us and we each shot approximately 600 rounds. You will not be disappointed with this hunt.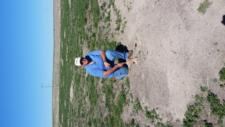 Jarod Pauley
spring 2017 - Greenwood, Indiana
Abel and his family have a class act set up. Was more then impressed with the set up, lodging, accommodation and Abel's knowledge of the territory and prairie dogs we were looking for. Can't wait to return to highland prairie and do it again. Thank you for a great experience.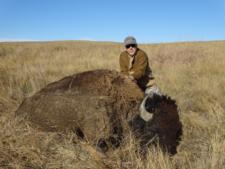 Larry A Teaberry Jr
Fall 2016 - Canfield,OH
A friend and I planned a bison hunt with Abel for Oct. 2016. Not knowing what to expect as this was my first big game hunt. I was a bit at the mercy of my very experienced friend. I was not disappointed, nor was my friend. Everything was taken care of by Abel and his staff. He could not have been a better host, guide or ambassador for theRosebud Sioux. I am planning to book another hunt with Prairie Highlands in the near future. The experience could not have been any better.
Jeff Terlecky
Fall 2016
Abel _A great hunting experience hunting the Bison. While not a difficult hunt compared to Elk or moose , the bison sure makes up for this in there toughness. It took two well placed shots with a 375 H&H mag with a 300 grain bullet to put the animal down and it got back up before falling and staying down for good. Any human hunting with flint on the end of a stick is a better man than me.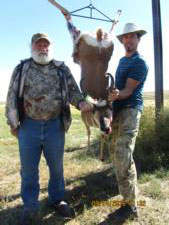 David Bear Scheid
Fall Antelope 2016 - Burns, Oregon
Fair chase, spot and stalk at its finest! From 2 miles to 168 yards, two ridges, 100 yards low crawl through sand burrs, red ants, cactus, cheatgrass and dirt...it doesn't get any better! Way to go Abel...you sure know how to show an old man a good time. I've been hunting for almost 70 years and consider it a privilege to have hunted with you. Don't plan on loosing any weight at this lodge, thanks to Abel, Sabrina and April, the meals are gourmet. Thank you for a memorable time.
Bill pietrzyk
Upland bird
Abel was a terrific quide. He showed us numerous locations every day and all had birds. He was very knowledgable on the habitat and behavior of not only pheasant but also sharptailed grouse and prairie chickens. He was prompt and planned our hunts to maximize our time in the field. The food was great and the cabins were comfortable. I plan to return and will book his services again. I highly reccomend Abel Harmon to anyone who wants a true professional quide.
Richard Smith
Fall Cow Elk 2015 - South Dakota
I have been on two cow elk hunts with Abel Harmon at Prairie Highlands Lodge. The accommodations are comfortable and the food very good. Both hunts were successful in harvesting cow elks and this was a result of Abel Harmon's knowledge of the game and skill as a guide. He is a very hard working guide but is always mindful of his hunter's age or physical abilities. I highly recommend Prairie Highlands Lodge.
Dylon Deschene
Fall 2014 - Colorado Springs, CO.
This truly is an amazing place. All accommodations were beyond what I expected. Animal population is unbelievable and the guides really know how to hunt. I landed a massive 8 point white tail on the first day. If you are looking for the ultimate big game adventure, this is the lodge you want. Highly recommended.
David Fahland
June 2015 - Moose Lake, MN
Had a great time hunting prairie dogs thanks to Abel Harmon of Prairie Highlands Lodge. He and his family were very friendly and accommodating. Our accommodations were excellent and our guide Aaron was very helpful and kept us on the prairie dogs to the point I was nearly out of ammo on our final day hunting. Bring lots of ammo and a 4X4 vehicle and be prepared for a great experince. Thanks Abel I hope to return soon.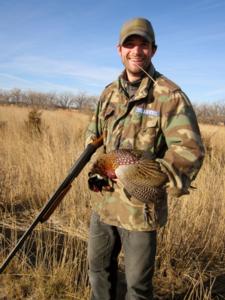 Cody Larson
Fall 2013 - United States
Thank you for the great pheasant hunt! Amazing location, tons of birds, awesome food! Thanks and hope to see you next year!!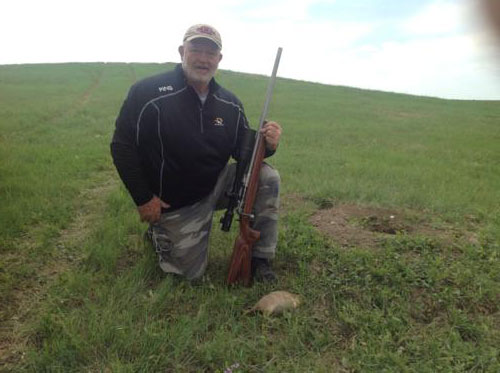 Mark Harshman
prairie dogs - St. Joseph, Mo.
We had a group of six hunters that enjoyed themselves very much at Prairie Highlands. The shooting was fantastic and the guides were great! Anyone wanting a good time should check this place out! This was our first trip to hunt doge and we will be back. Mark Harshman